I wrote this post after my trip to Indore a few weeks back but then it was forgotten in drafts while I went about my job of saving the world. However, I realize that keeping my global audience away from this amazing piece of work is social injustice. It's surprising to me that I have never written about food. Hence this post now, on a lazy Saturday afternoon.
I was in Indore for a few days for the much publicized Global Investors' Summit 2014 which has apparently attracted gazillion rupees of investments. God knows when those investments will see the light of the day. Our esteemed PM was also there speaking something similar -
Being my first trip to Indore, I was looking forward to exploring the city in my free time and maybe trying out a few of its famous dishes. My Hyderabad food orgy had ended just 2 days back so I was quite keen on keeping things light and vegetarian. The vegetarian plan succeeded. Light... umm...
Sleepy, disheveled and lost was how the sleeper bus dumped me on the highway in Indore at 7am. After becoming respectable at my hotel, I found out that Chappan (56) dukaan was walking distance from there.
Chappan Dukaan
Named after the 56 shops that operated there at one point, it is a famous place for food joints in Indore. A lot of legendary food outlets are here. I wasn't sure if I was going to be able to try all of them but after 2 days, I realized that I had given it my best shot.
First stop was Young Tarang where Poha and Dhokla (called Khaman) were consumed with great relish. The poha was slightly sweeter than what I am used to in Maharashtra and had a generous dose of namkeen. I liked it.
Poha
The sweetness and namkeen are a common feature of food in Indore. Up next was Johnny hot dog which is like a landmark in Indore. Here they serve NOTHING that looks like a hot dog.
Johnny Hot Dog
It's a bun with tikki or omelette inside it served with onions and chutney. They call them 'benjo'. Yep. Benjo! This is a hindi-speaking state for god's sake! For my still-a-teenager mind, ordering 'ek benjo' loudly was great fun. That it tasted great was a bonus.
Lunch at the summit (I had come there for work remember?) was completely an Indian mela. All the 'global' investors were running around for plates, clamoring for food and in front of the kulfi stall, acting like refugees being handed out food packets. I skipped it. It was a good decision considering what I did for dinner.
I went with a group to Sarafa Bazaar. This bazaar is in a gali in a proper Indian market which has many shops, narrow lanes and a huge crowd. It's not a place which millennials haunt which is a pity. Sarafa Bazaar saw Ghengiz Khan assault on food that night. First I went for the Indore trademark Kachori. Ate two types of it.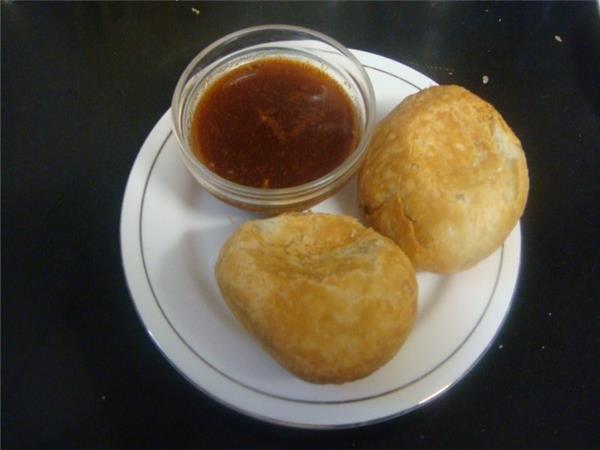 Kachori
Then came Sabudana Khichdi which like everything Indori had more namkeen and sweetness than what I am used to. That did not prevent me from polishing off a plate of it.
Sabudana Khichdi
I changed the food genre completely and went for a cold, sweet and extremely colourful Kulfi falooda which looked somewhat like this.
Colourful Kulfi Falooda
There was still a long night ahead. Did I mention that I was planning to eat light on this trip? Next stop was Joshi Dahi Bada, a place which you cannot afford to miss. The owner, Mr. Joshi I guess, loves showing off in front of new customers and it is fun watching him do this thing. Noticing that I was new, he called me over and asked me to sit near him while he prepared our dahi bada plate.
At Joshi Dahi Bada
During his preparation, he will throw the plate full of yummy dahi badas up in the air and catch them intact. That's how he builds his USP.
Joshiji throwing the plate in the air
While we were eating, we wanted a dahi refill. He specifically asked that I come and get the refill. So I did. Then he showed me his other act - of putting four types of masala in one chutki. He somehow stores all four of them in his fingers when he puts his hand inside the masala dabba once but then puts each one separately in four strokes without getting more masala. Fascinating. Dahi bada and a magic show combined. At his shop, I also tried Bhutte ka kees for the first time.
There was this poster of Shahi Shikanji. Normally, shikanji is lemonade (nimbu pani) for me. But here, it is a thickened milk drink with lots of dry fruits inside. My friends told me that it was very very very heavy so I thought that I shall skip it for another day. I rounded up the dinner with alu patties (which really are not patties but pakodas) and one more helping of dal kachori. A night well spent I must say.
The next morning started with a bang. I landed at chappan dukaan like a coke addict in need of a fix. I cleaned off a plate each of Kachori and Alu Patties (pokadas elsewhere). Then I saw Shahi Shikanji and went for it. It was delicious! I patted my burgeoning stomach and made my way to the summit for a nice nap.
The dinner started with an Egg mutton benjo.
Benjo looks simple but is yummy!
Then I tried Bhel puri. No points for guessing - it was sweeter and had more namkeen. However, I didn't like it as much as some I have had in Mumbai.
For better or worse, India doesn't have a lot of franchise chains for Indian street food. There's one for Vada Pav. I haven't come across other very popular ones. But in Indore, I saw the first franchise chain of Pani puri. These were street stalls that advertised 6 or 9 types of flavoured water like teekha, hing, pudina, khatta mitha, jeera, imli and keri. Keri was my personal favourite and I had second helping of that flavour. The stall owner turned out to be the franchise owner and he was very nice. He gave me TWO sukha puris after I finished. He surely knew how to win my loyalty. Enough of these appetizers. I wanted something filling. The chinese and rolls place caught my eye. I sauntered over there and looked at the menu. The smell was very tempting. I ordered the healthiest thing on the menu - A butter fried egg chicken mayonnaise roll. I still haven't been able to burn off the fat from that roll but it was totally worth it. In India, the culture says that every meal should end with sweets. Who am I to argue with Indian sanskriti? So I scraped clean a plate of Ras malai. Contented sigh. It's a pity that Bombay sucks when it comes to sweets and ras malais. On the way back, I spotted a pan-wala advertising a khushboo wala paan. My curiosity got the better of me and I walked back to the hotel chewing a khushboo wala meetha paan.
My final day involved a repeat of some of my favourite dishes. Breakfast consisted of Poha, Kachori, Dhokla and Sabu Dana Khichdi. Early evening dinner consisted of a soda lemon, dabeli (this was also very good and reminded me of my childhood dabelis in Gujrat), another egg mutton benjo and the multi-flavoured Pani Puri.
I am pretty sure that a few more days and I would have blocked all my arteries. Which is why my advice to everyone is that if you value your life, do not go to Indore! It's a food trap.