From not reading news at all till middle of college, I have come a long way. Everyday I open multiple news sites, twitter accounts and I get multiple newspapers at home. However, most people I know don't actively think about the news that they are consuming. Most editorials in India are really bad. Most places don't do good and enough ground-level reporting.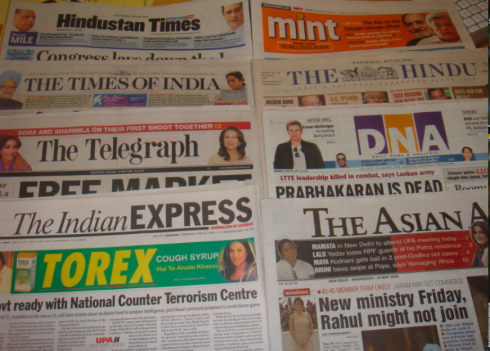 Here's my opinion on best places to consume news in India. I hunt for news on education, healthcare and data backed opinion so increased bias towards those.
Business-Standard
- Excellent overall.
Well researched, insightful pieces that are backed by data. They really clear the air on economy, government efforts and policies. Pretty good editorials also by
Shekhar Gupta
,
Mihir Sharma
and Ninan. Way better in content and credibility than Economic Times.
Indian Express
- Great general editorials.
Especially Pratap Bhanu Mehta. Their coverage of select stories is also fantastic. However, news selection is limited and tends to get carried away in its anti-establishment angle.
Indiaspend
- Data pieces
Finally someone is researching problems in India using data. They cover a wide spread of problems.
Times of India
- Widest news coverage
I know, I know. Toilet paper, Times of Boobs etc. Now set aside your outrage. It does have advertorials and lacks credibility. But it has the widest coverage. Everyday I see so much local news covered that is not covered in other newspapers. There is just more news in a TOI paper than in other papers. Compare and see.
It's editorial is pretty bad. They print Chetan Bhagat for christ sakes!
Scroll
- Ground reports
They cover more education, education and other social sectors than any other paper. Every few days, a great piece of journalism will come like
this one
on healthcare in Kolkata.
The wire
- Insider, anti-establishment pieces
They need more improvement but still produce some good reads.
Livemint
- Good longform articles
Cover business areas that other newspapers don't. My personal favourite is
Anurag Behar's column
that stands out from the capitalist tone of the business papers.
The Telegraph
- Outrageous headlines are fun to read.
Opinion by Mukul Kesavan and Ramachandra Guha are good. Nothing else to write home about.
Hindi - I still haven't come across a really good Hindi newspaper. Navbharat Times has decent news. Lokmat is Indian Express in Hindi so nothing new there. Naubharat is absolutely trash. Amar Ujala is average.
I want to keep on updating this post in light of new information. If you have any suggestions, let me know.